It`s time to Decorate your Easter Egg
Don`t tell me you never do that! Even if so, it's never too late to start, you can`t even imagine how funny it can be.
Why have I chosen coloring Eggs….well, simply because it`s the universal symbol of Easter, and the tradition, as Wikipedia said, dates back way to Mesopotamia. Some cultures today are more keen on (более увлечены) buying colored or even chocolate eggs, but let's be honest, decorating them  by yourself is always much more fun!
Here is my fun
TOP 6 WAYS to decorate Easter eggs
this year:
1. Cover (покройте) boiled egg with a glue (клеем) and dip it (смокнуть) into sprinkles or glitter(блесточки). Such eggs  will be  a perfect decoration for Easter party.

2. Glue dried flowers (сушеные цветы) to the egg and cover each egg with a piece of fabric or buttercloth (марля). Put the egg into boiling onion water: boil onion husk (шелуха)  in water for about 5-7 minutes. After cooling your eggs, unfold (разверните) them and enjoy the ethno -decoration style.

3. Wrap an egg in an old tie and boil in water with 1 tbsp. of vinegar (уксус).
Simply find some old silk ties that are of no use any more. Wrap them around Easter eggs and secure with thread (перевязать ниткой). Boil them for about 15 minutes. After 15 minutes the patterns (узор) from your old silk ties should be transferred (отпечатается) to the eggs.

4. Simply Black & White.
Oh yeah! Just use permanent marker (водостойкий маркер)

5. Cut and stick mustache from black adhesive vinyl (клейкая иссукственная ткань/винил) to the boiled eggs. I promise you it would be perfect smile-motivator during all Easter holidays long. 

6.And finally, just to make you smile, here is one more way to decorate Easter eggs, that I found interesting -Angry Birds theme! Just use colorings (краски) and your  painting skills.

Okay! Hope at least some of this variants inspire you to create your unique Easter egg this year, but if you canshare any other ideas of egg decoration, please – you`re very welcome!!! Do it in comments, come on!)
And for the dessert, here is a story of an old man, who fulfilled one of three popular goals of life: Build a house, raise children and plant a tree. Sure he had time to accomplish all three during his long life.  But Not only did he plant the tree, he also decorated it with a 10 000 painted Easter eggs!
TREE
DECORATED WITH
10 000 EASTER EGGS
"Volker Kraft puts the finishing touches (последние штрихи) on a tree that he has decorated with 10,000 hand-painted Easter eggs in his garden in Saalfeld, Germany, on March 21, 2012. Kraft started decorating the tree in 1965 with 18 plastic eggs but as the tree grew, he has gradually increased (постепенно увеличил) the number of eggs every year over the past four decades. Last year, Kraft hung (повесил) 9,800 eggs on the tree and this year's total sum is 200 eggs. It takes Kraft and his family two weeks to hang all of the eggs on the tree.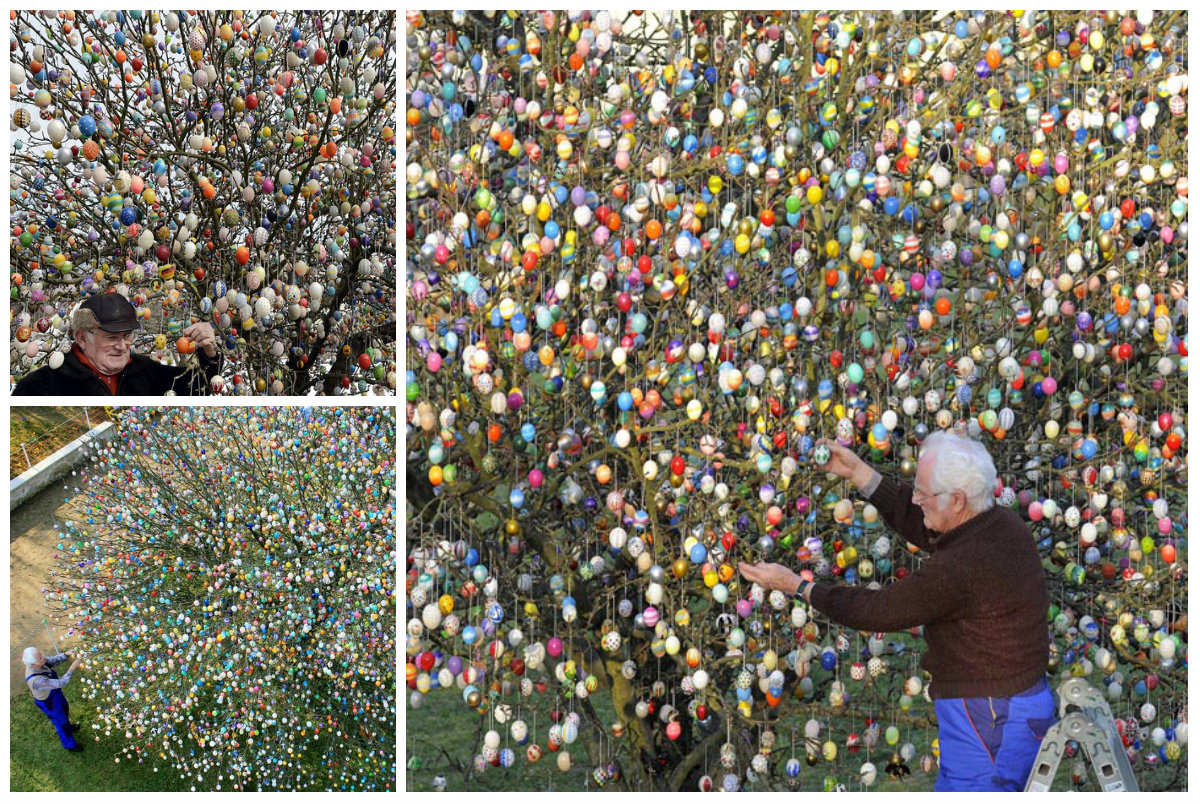 An apple tree is adorned with 10,000 Easter eggs on the property of Volker Kraft in Saalfeld, Germany, on March 24, 2013. The Kraft family has been decorating the tree with Easter eggs since 1965."
Happy Easter!